How We Work
A guide for your journey
GPA Financial Services is a specialist company of planners who help individuals achieve better financial outcomes. We do this through informed advice and not by selling products.
By working one on one with you we provide solutions to reach your goals.
It doesn't matter how little or how much you have, it all starts with the first hello. In our discovery meeting, the cost of which is borne by us, we learn from each other, and build our understanding of where you're at and where you'd like to be, financially.
We'll look at what you're doing and see if we can improve your outlook; and take the time to discover what makes you tick financially.
The next step is to develop a plan that suits your lifestyle and your objectives. For our part, we genuinely only take on clients who can significantly benefit from our services.

The process goes something like this:
We begin with a discovery session where you tell us your hopes and dreams; and what you value most in life.
If we believe we can add significant value to your planning then we draft a Terms of Engagement, setting out the key areas of value and how we will help you achieve your goals
Once this is agreed we get to work and see whether you can reach your goals with your current actions (see Mindmap below).
We stress-test your ideas as well as our own recommendations.
Offer alternative strategies that may improve your outcomes.
Provide a detailed cash flow breakdown so you can see the impact of various strategies on your everyday lifestyle.
Deliver detailed recommendations on how to reach milestones such as repayment of mortgage, funding goals like children's education or renovations, or reaching desired retirement income levels with certainty i.e., not running out of money.
Here is an example of a typical 'mind map'. We use this as our brief to meet your objectives and ensure that future decisions are based on your core values. We find getting your life on one page helps clarify thinking and more easily draws future decisions back to your values.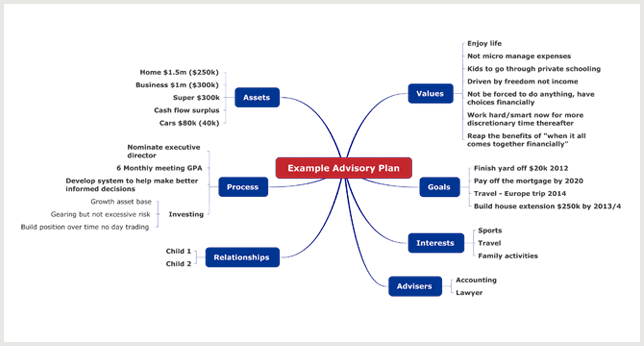 Once a strategy is agreed upon and you are happy with your financial plan, the journey towards your goals has truly begun.
You may reap the maximum benefit from our ongoing, proactive advice as a Private Client; meet for an annual investment review as an Active Client; or simply benefit from occasional advice through our Duty of Care service.
---
More information on our range of services
Click to watch our Videos